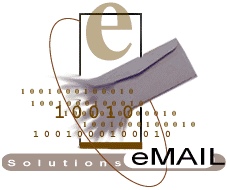 Email

Additional Email addresses can be added to any CiNet dialup account for a low price per address, per month. Each address comes with it's own username and password and can be retrieved individually, or forwarded to a common address.
Domain Mail

Domain Mail services provides your business an Email solution for electronic mail with your own identity (yourname@yourbusiness.com) without all of the hardware and software or more expensive services. All mail for anyuser@yourbusiness.com gets redirected to one or more standard CiNet email accounts. A Domain name is required, and other fees may apply. Please contact a CiNet representative at (608) 663-8000 for more information about our email products.
Mail Relay Service

Mail Relay Service is the optimal standard for Email delivery service before you are ready to establish a full-time connection to the Internet. An existing network, and internal mail server and a modem are required. Mail Relay Service will retrieve mail stored by CiNet at predetermined intervals and then your server does the rest. A domain name is required and additional fees may apply. Call a CiNet representative at (608) 663-8000 for more information on how Mail Relay Service can work for your business.