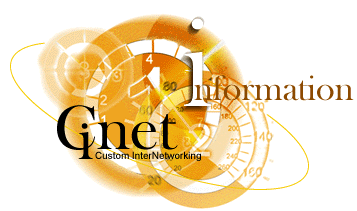 Service Options

Dedicated LAN access to the Internet at speeds from 256Kbps to T1 (1.54Mbps)

Domain Name Servce and Registration

Ability to host your own services such as Email or a Web Server.

Real-time circuit usage monitoring.

Telecommunications provisioning

Simplified, easy-to-read billing statements.
CiNet makes it easy. Let us provide and configure your router. Contact CiNet today and we'll show you how to make the most of the Internet while taking your business to the world.


Point-to-Point T1

Maximum Performance and Reliability for your business.
Point-to-Point service provides you with the maximum amount of bandwidth around the clock for the most demanding Internet applications and access requirements. CiNet's Point-to-Point service provides your business with a dedicated, 24 hour-a-day link to the internet on your network.
Starting from speeds of a Fractional T1 through to a full T1 connection, Point-to-Point service will link your business directly from your network to CiNet's Point of Presence (POP). Since you won't be sharing this circuit with anyone else, this type of connection provides your business with a guaranteed connection to our facility 24 hours a day.
Wether it's Audio and Video conferencing on the World Wide Web, file transfer or any kind of multi-user activity accross your LAN, you will have the performance and reliability to keep your business productive.
CiNet offers multiple bandwidth options for Point-to-Point service that allows businesses to select the correct amount of bandwidth to satisfy their needs. Your CiNet account reperesentative will work with you to determine the service level and availability. CiNet can create a custom service program for your company.
Hardware Requirements

Computer network or Server